Jeti Duplex TU2 Transmitter Part
Voor ombouwen nagenoeg alle zenders op 2,4GHZ.
Is ook geschikt te programmeren voor Robbe en Graupner Multiswitch modulen en decoders.
Deze Jeti Duplex TU2 EX module verschilt van de eerste Jeti Duplex TU module door de mogelijkheid
om nu een externe speaker en/of een oortelefoon op aan te sluiten zodat het teruggekoppelde signaal van de telemetrie sensor nog beter te horen is.

Er zijn maar 2 eisen:
1, de zender moet uit kunnen zenden in PPM mode,
2, er moet ruimte in de zender zijn voor de module.
Oa dus geschikt voor:
Futaba: FC-16, FC-18 JUNIOR, T6EXHP, 12FG, 12Z, 14MZ, FX-18, FX-14, FX-30
Hitec: Laser 4, Laser 6, Flash 5, Optic 6 sport
Graupner: MX-12, MX-16s ,MC-10, MC-12, MC-14, MC-15, MC-16, MC-19, MC-22, MC-16-20,
Multiplex: Cockpit SX, Profi 3000, 4000
Parameters
| | |
| --- | --- |
| Dimensions [mm] | 55 x 26 x 11 |
| Weight [g] | 15 |
| Antenna [dBi] | 2 |
| Acoustic signalling of conditions | ja |
| Number of input PPM channels | 16 |
| Temperature Range min.[°C] | -10 |
| Temperature Range max. [°C] | 85 |
| Supply Voltage min. [V] | 3,5 |
| Supply Voltage max. [V] | 16 |
| Average Current [mA] | 38 |
| Power Output [dBm] | 20 |
| Real Time Transmission of Telemetric Data | ANO |
| Programming | JETIBOX |
For download
Enkele voorbeeld foto's Robbe F-FC serie plaatsing bij accuhouder.
plaatsing omschakelbaar 40mhz>>2,4MHz dubbelpolig
Voorbeelden antenne inbouw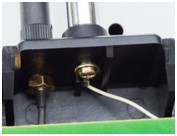 Place your own photo's so other customers can have an look at your project
Upload them here
Found an lower price?
Ask us if we can match the price within the Netherlands.

We are making everything possible to provide you the best products on the lowest prices possible. Due to the higher number of products in our store we think that is possible some of the prices on our products to not be accurate.

If you find one of our products with lower price than ours, please use this form. We will compare the prices and will send you an offer!

Rulebook:
1. Only regular prices at other local stores in the Netherlands do apply.
2. Shipping costs from the other store are added to the total price of the product.
3. Promotion and sales items do not apply to this.
4. Prices must be visible for all visitors of the store.
5. The product needs to be in stock at the other store and this must be listed at their page.
6. The price warranty is not backwards available.
7. False prices do not apply to this rule.
8. Products needs to be identical.
Please fill in the form below:
*
Required fields